I missed you all last year, but was away, welcoming the newest addition to our family tree: my sweet granddaughter, Kaylee!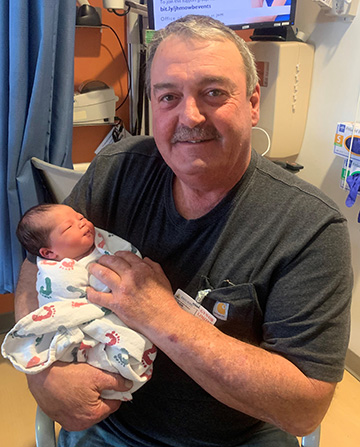 Kaylee, born September 17, 2021
I'll be leading the way this year as we continue to make progress for in-person events! Our new norm is likely to include virtual components of our meetings and events, but… we are truly hopeful that you will consider attending the 2022 USPLTA meeting in person! There is no replacing the comradery of sitting side by side, sharing a story, beverage, and experiences together.
We are meeting at Skamania Lodge on the Columbia River. It's an easy flight to Portland and less than an hour from the airport to Skamania Lodge. The Lodge has undergone a facelift since our last stay in 2011 and has made changes – but their service promises to be world-class. Fishing is tentatively scheduled for Wednesday morning, September 28; sturgeon fishing is a go for sure and steelhead is currently a possibility. Our golf tournament will be held on Friday at one of Washington's best kept secret courses, Elk Ridge, which is about 10 minutes away.
The meeting agenda is under-construction also! Additions will come throughout the summer. The newly hired Director of Research and Sustainability, Will Lytle, will be introduced and speak at the event. VP of Marketing, Jeff Rumney, is bringing a team of European buyers to the event providing an opportunity for one-on-one meetings for attendees beginning on Tuesday afternoon and continuing until Thursday morning. The European buyers will also speak on Wednesday afternoon to their markets and how the Ukraine events are affecting the industry. Domestic Marketing and Policy updates will be included on the agenda, including an update on DCM research. We can't be near Seattle and Portland without thinking of Transportation issues; they will be covered!
Book your hotel rooms early! We are offering a virtual registration as well. Attendees can join the meeting sessions and participate remotely. We are encouraging companies to consider this option, allowing more of your employees to participate in the committee meetings, keep abreast of industry issues, and be part of the pulse community.
Looking forward to seeing you at Skamania Lodge in September!
Jim Groth
US Pea & Lentil Trade Association Chairman